Puerto Galera is approximately 100 miles South of Manila and is situated on the northern peninsula of Mindoro Island. Separated from Luzon by the Verde Island passage, its waters are flushed by currents of up to 6 knots from the South China Sea. This strong current makes some of the sites a spectacular ride alive with fish life, so diving with a professional Divemaster or Instructor who knows the area and the currents is very important. The passage is very deep so clear water is very common to the dive sites of Puerto Galera along with a fantastic variety of large and small marine creatures.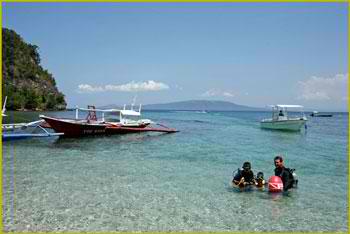 The variety of hard and soft corals along with hundreds of species of of tropical fish life makes it one of the most popular dive destinations in the Philippines that offers world class dive sites, The 5km foreshore is a protected area and a marine sanctuary.
The visibility varies from 10m/30ft up to 30m/100ft and sometimes even better depending on the water temperature, current strength and wind direction. The best diving conditions can be from April to September with water temperatures of up to 29 degrees C, clam seas and better visibility. The water temperature can get as low as 22 degrees around December on the deeper dives and the area does have a lot of thermo clines with clear cool water due to the deep channel and strong currents. The area can be dived all year round. Typhoon season is usually from the end of July until the end of November but they usually pass well North East of Puerto Galera creating sometimes strong winds, rain and choppy seas. Depending on the wind direction and sea conditions there are always areas which are sheltered to dive.
Diving with La Laguna Dive Center!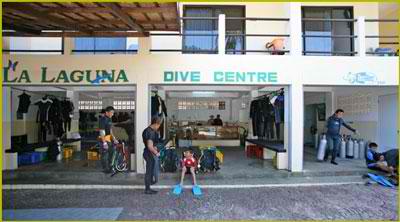 Most of the dive sites are within a few minutes boat ride from most of the dive centers. There are sites for all levels of training from the beginner, advanced experienced diver and the deeper sites for Technical and Trimix Divers.
Day dive trips can be made to some of the outer Islands like Verde, Chicken Feather and Maricaban Island which offer some spectacular Reefs, Walls and Pinnacles. The La Laguna Tech Center offers technical diving and training both DSAT and IANTD courses to Timix level on open circuit and Closed Circuit Reberather including Trimix Blending courses. The pumping station is a complete facility with gas booster pump and Helium analyzers which can really save the tech diver some money when it comes to gas fills. A full range of technical equipment is for hire if needed along with equipment service center and a full range of spare parts for most technical regulators and rigs. Our highly trained and experienced Tech Instructors and guides will show you the best sites available in the area and ensure SAFETY FIRST.